Mar 19, 2019 (3BL Media via COMTEX) -- SOURCE:HP, Inc.
News highlights:
The company reached its goal of 100% zero deforestation with its HP-branded paper two years ahead of schedule [1] , and is on track to achieve zero deforestation of its paper-based packaging by 2020 - marking a major milestone in the company's journey toward a forest positive future.
HP's vision is to deliver carbon neutral offerings; HP customers have reported a 33% annual reduction in carbon emissions, energy consumption, and cost per device with HP's Managed Print Services [2] .
The company's line of printers supports closed-loop recycled plastics, specific products made with up to 30% closed-loop, post-consumer plastics [1.]
HP announces new energy efficient EcoSmart LaserJet printer and EcoSmart black toner with lower melt temperatures that result in lower energy consumption [3] .
HP supplies study reveals over 50% of today's US workforce expects employers to commit to sustainable practices and this impacts employee recruitment, retention and advocacy [4] .
HP Reinvent: World Partner Forum, HOUSTON, March 19, 2019 /3BL Media/ -- Today at HP Reinvent, the company announced its bold vision for print sustainability - pledging that every page printed with HP will support a forest positive future, carbon neutrality, and materials designed to reduce the impact to the planet. Built on HP's longstanding commitment to environmental innovation, this new vision supports HP's ongoing efforts to deliver the company's most environmentally sustainable product portfolio while transforming their business to a more efficient, circular, and sustainable model.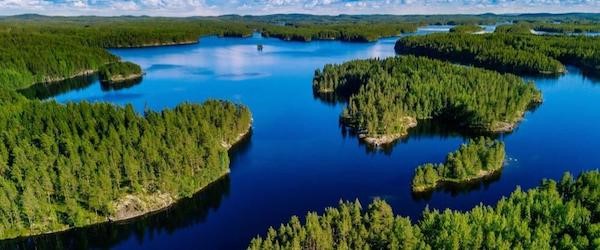 "We are redefining the power of print to create a positive, lasting change for the planet, its people and our communities. HP's commitment to sustainability guides how we do business and drives the way our printers are designed, made and used," explains Enrique Lores, President of HP Inc.'s Imaging & Printing business. "Today at HP Reinvent, we took one step further by pledging to lead the industry in making every page you print sustainable."
As HP looks to grow without increasing its consumption of raw materials and thrive in a resource-constrained future, the company is well-positioned to help customers do the same. Supporting a vision to build sustainable products, the company engineers Original HP supplies to help reduce risk for its customers, their reputation, and the planet.
Forest Positive Future
With today's pledge, the company aims to make every page printed on an HP printer forest positive by extending beyond its consumer printers, which are forest positive, to its entire portfolio to include commercial printers.
In 2016, HP achieved 100% zero deforestation associated with HP-branded paper, nearly two years ahead of schedule- marking a milestone towards the company's vision for a forest positive future. Plus, the company's paper-based product packaging zero deforestation goal is on track for 2020. In addition, 100% of HP branded paper sold in North America is certified by the Forest Stewardship Council(R), ensuring transparency and responsible forest management.
Carbon Neutral
HP is taking an ambitious step today towards our vision of carbon neutral printing with the introduction of the new energy efficient EcoSmart LaserJet printer and EcoSmart black toner, which has a lower melt temperature, thereby reducing the energy consumption of HP printers.
But even more valuable than individual products, is how HP's products work together through HP's Managed Print Services (MPS) offerings - helping customers achieve ambitious sustainability goals and better their bottom line. By partnering with HP, customers have reported a 33% annual reduction in carbon emissions, energy consumption and costs [2] .
Circular Economy
HP continues to support a circular economy with its consumer and business products, recently reinventing its printer suite to include closed-loop recycled plastics, with HP ENVY and Tango printers comprised of 30% closed-loop recycled plastics [3] . Since 2000, over 199 million pounds of recycled content plastic have been used in 3.9B HP Original ink and toner cartridges [1] . Two years ago, HP introduced the first HP Original ink cartridges made with plastic bottles sourced from Haiti. As of today, the company has sourced more than 550,000 pounds of ocean-bound plastic for use in our products - the equivalent of more than 12 million plastic bottles that might otherwise have washed into the ocean and waterways. Our R&D teams invest up to five years engineering each new generation of toner and ink cartridges to deliver quality printing and 100% of toner cartridges and 80% of ink cartridges contain recycled content [1] .
Market Expectations
People expect brands to stand for more than the products they sell. A 2019 Edelman study on trust disclosed a staggering 67% of consumers self-identify as Belief-Driven Buyers and believe brands can be a force for social good [5] . In the workplace, initial findings of a global supplies study conducted by HP reveals a company's commitment to sustainability impacts employee recruitment, retention and advocacy with over 50% of today's US workforce expecting sustainable practices by employers [4] .
HP Original Supplies are engineered to provide the highest quality printing experience. For HP, this means prioritizing the safety of your printer and the planet by producing reliable ink and toner cartridges, while raising the awareness of the harmful impacts clone and imitation cartridges can have on the environment, print quality, and customer costs.
Transform to Perform
HP has a bold vision for what the future of printing can look like, and it starts with challenging the printing industry to transform and continuously innovate. The company's pledge for print sustainability announced today aims to protect forests, reduce carbon emissions, and use more recycled materials. Circular economy models help decouple economic growth and natural resource consumption while driving greater competitiveness. Transforming print sustainability is not only good for the planet - it's good for business.
About HP
HP Inc. creates technology that makes life better for everyone, everywhere. Through our portfolio of printers, PCs, mobile devices, solutions and services, we engineer experiences that amaze. More information about HP Inc. is available at www.hp.com.
Contact
Lara MacKenzie, HP
www.hp.com/go/newsroom
lara.mackenzie@hp.com
Tweet me:.@HP pledges to make every page printed #forestpositive, #carbonneutral and part of a #circulareconomy. Learn how @HPSustainable plans to accomplish these goals. http://bit.ly/2CpIwqU
KEYWORDS: HP, HP Inc., Carbon Neutral, Forest Positive, print sustainability, sustainable paper printing, HP Reinvent: World Partner Forum, Enrique Lores President HP Inc. Imaging & Printing business, Forest Stewardship Council, HP's Managed Print Services, 2019 Edelman study, Lara MacKenzie HP, lara.mackenzie@hp.com