At TotalPrint USA, we provide the support staff to walk you, and your clients through the managed print experience. From that first introductory call, to implementation, to ongoing support, the TPUSA team stays with you and your client!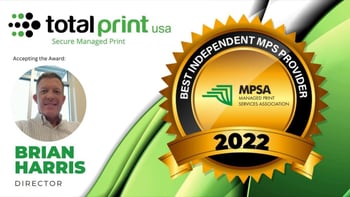 Let's review a simple solution that required one client call, and now the client, AND the MSP are no longer bothered by print.
Overview: Veterinary clinic had 4 different desktop MFPs, HP laser, HP ink, Samsung, and Canon.
Challenge: Client purchased the least expensive devices from big box store when needs arose. Not thinking about anything but cost to acquire.
Byproduct: Multiple manufacturers, multiple inkjet and laser cartridges, high operating cost, and MSP dealing with disparate drivers and service issues.
Solution: Replaced all 4 devices with similar HP MFPs on simple rental model.
Result: Client is extremely happy, has 4 new HP devices, using OEM supplies, and saved money. Their toner is auto replenished. Print issues for the MSP are now TPUSA issues. MSP is making money while knowing that TPUSA will protect those endpoints.
Takeaway: A great way to introduce TPUSA to your client is to review existing devices they own. In almost all cases, TPUSA can support what is in place with toner and on-site service, and save them money and headaches. Or as in this case, when the devices in place are expensive to run, replace them with better operating cost machines, while saving them money.
No client is too big for TPUSA, and certainly no client is too small. Bring us the situation you have been dragged into, and let us produce the solution. It's what we do!