Many people believe page yield to be a fixed number of how many printed pages they can expect to receive before the cartridge is depleted but, unfortunately, it's not that simple.
Printer manufacturers adhere to a measurement system put in place by The International Organization for Standardization (ISO) for determining page yield. This is done by putting the cartridge through a continuous print test until the ink begins to fade or is prevented from printing further on account of its low ink supply. The test is performed by completely covering 5% of each page with ink. This is the equivalent of a postage stamp. You should expect 70% of the stated cartridge yield on average.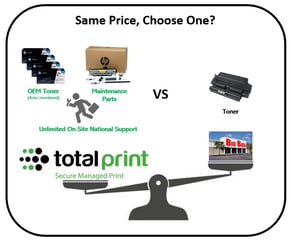 Also, note that larger font sizes, images and graphics consume more ink and will greatly affect your page yield. Therefore, the manufacturer's page yield is to be used as a general indication of how much production you're likely to receive from your cartridge and is dependent on variables associated with the user's printing preferences. Use page yield as a general gauge – not a firm number of how many printed pages you'll receive before your cartridge is depleted of ink or toner.
While toner yield is a valuable metric for evaluating printer cartridges, the real challenge lies in bridging the gap between theoretical estimates and real-world usage. Managed print services emerge as a solution by offering a proactive, efficient approach to print management. By addressing toner yield discrepancies, MPS not only ensures a more accurate reflection of your printing costs but also streamlines your entire printing infrastructure for enhanced productivity and sustainability. Consider making the switch to managed print services for a more cost-effective and hassle-free printing experience.