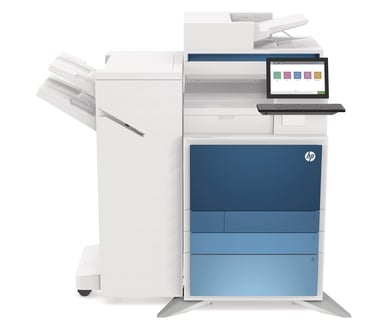 Choosing the best laser printer is often based on consumer reviews, personal experience, brand recognition, word-of-mouth recommendations, and price. Even with all those other factors, the cost usually weighs the heaviest.
If your business or office prints a large number of documents regularly, it might be more affordable to consider leasing a high-quality laser printer. When comparing purchasing outright vs leasing, choosing the latter is often more beneficial to receive the best high-capacity laser printer for your business. Let's look at other factors that can influence your choice of laser printer.
Determine Your Needs – Do You Require a High-Capacity Laser Printer?
One of the first factors to consider is your office or company's everyday printer needs. How much do you print on average per month or year? Do you tend to need full-color or black-and-white printing? Are you producing more documents or images?
Answer these questions to help decide if a high-capacity laser printer is your best choice.
What's my volume of printing? Consider the number of pages you need to print regularly. A high-capacity laser printer is essential for printing large volumes of documents. Many customers may even consider their printing output reasonably low until they track it for a month and calculate their annual totals.
What amount of printing speed do I need? High-capacity laser printers are designed to print quickly, so consider how quickly you need your documents printed.
What price am I willing to pay? High-capacity laser printers are more costly than others, so consider your budget when deciding.
What level of print quality does the business require? High-capacity laser printers are designed to produce high-quality prints, so consider the type of documents you'll need to print.
What kind of connectivity will I need? Consider the type of connectivity you need for your printer. High-capacity laser printers can be connected to a network, allowing for easy and efficient sharing of documents.
Understand Your Printing Requirements
Finding the correct type of printer starts with asking many of the same questions to determine if you need a printer in the first place. Follow these steps to narrow your choices.
Identify the type of printing you need (e.g. color, black and white, large format, etc.).
Consider the size and weight of the printer, as well as its features and capabilities.
Compare different models and brands to find the one that best meets your needs.
Read reviews from other customers to understand the printer's performance and reliability.
Consider the cost of the printer and the cost of replacement parts and ink cartridges.
Ask friends and family for recommendations.
Can Outsourcing Help You?
Many companies are realizing that outsourcing materials and equipment is a superior choice to purchasing outright. By leasing or renting through a third party, the client can leverage several benefits and solutions which are less readily available when choosing to buy.
Cost-Efficient
Purchasing a high-quality laser printer for your business can improve your ability to print, but it can also cost you quite a bit past the initial price. Considering that most quality laser printers cost between $300 and $500, plus ink or toner cartridges and other maintenance parts, which will be purchased within the first two years, the price is now in the thousands of dollars. If there are any additional problems, the customer is also on the hook for those repairs.
By renting or leasing a printer, clients are partnering with the leasing company to receive a printer, print materials, and first-class customer service. Most leasing agents charge a flat fee for the monthly rental, which includes all of the necessary ink or toner cartridges, consumable printer parts, and complete printer service in the instance of malfunctions, breakdowns, or for everyday maintenance purposes.
Many printer leasing companies ask customers to agree to contractual terms, but the overall cost is always less than purchasing outright. In most instances, the contract runs month to month and can be canceled at any time. Follow the link for a detailed look at how the whole process works.
Maintenance and Support
As mentioned above, one of the perks of leasing a printer or fleet of printers is the customer service, maintenance, and support you'll receive as part of the agreement. In truth, proper maintenance and support are vital for both parties involved.
For the customer, if the leasing fee covers the cost of maintenance, repairs, replacements, or other potential expenses, they aren't on the hook for any significant problems. This allows for printing work to progress without having to worry about whether the printer will function properly or not. Over time, printers are guaranteed to have problems and the leasing fees never come close to the cost of a new printer or even repair one.
With the leasing company, they can use their excellent customer service as a huge selling point or marketing strategy. Plus, it's in the printer lease company's best interest to maintain happy customers and fully-functioning equipment.
No Commitment
When a company purchases equipment, it effectively invests its money in a tool to improve work conditions and functions. They're also committing to keep the equipment functioning as long as possible to receive the most benefit from their purchase. This can come with substantial costs to the company over time.
With a lease agreement, the customer can benefit from the equipment and services the leasing company offers without taking the plunge and buying an entire printer and the necessary print materials. Although many printer lease companies have agreements that will be month to month, most allow for cancellations at any time.
Save Space
Another positive for printer leasing is the saved or otherwise utilized space which would be used for storing additional paper, toner cartridges, and other consumable printer parts. When customers lease through TotalPrint USA, all the necessary toner and consumable printing materials will be shipped to you as you need them.
Professional Help
When working with a printer lease company, customers can receive professional quality help and assistance with any printer-related questions or concerns. TotapPrint USA offers a traditional customer support hotline and a remote support connection, in which the customer requests contact by a technician.
TotalPrint USA also recognizes that, other than direct customer support, many customers also want to educate themselves and learn more about the machines they're using in their day-to-day activities. Accordingly, they have a link to HP User Training, which allows customers to get in depth information about how the printers work and different ways to access some unique features.
Save Time
Sometimes, saving time means asking for help or advice. Consulting with printer leasing professionals about which system will best fit your needs means spending less time shopping for the right fit at a reasonable price point.
When the customer begins the leasing process, they'll save time by letting TotalPrint USA provide onsite service, parts and labor management, printer repairs, and auto replenishment of toner.
Quality Printing
Renting or leasing a quality printer means managing quality printing and producing quality printed materials. For many customers, this will help them to level up to a new plateau of professional success and growth. Expanding an already popular brand with better visual materials and printing processes is an opportunity for others.
Plan for Printing
Regardless of the status of your business, if you need to print a more significant amount of materials, it's essential to research the best possible solutions and prices available. Printing can incur substantial costs for materials, repairs, or replacements, so consider whether you want to lease or buy.
At TotalPrint USA, we strive to manage your printers and copiers to run smoothly and operate at maximum productivity for substantially less cost than you can do yourself. Our support team is ready to help, and our free onsite service offers a 4-hour response time. Contact us today to learn more about how our printing solutions can best benefit your business.