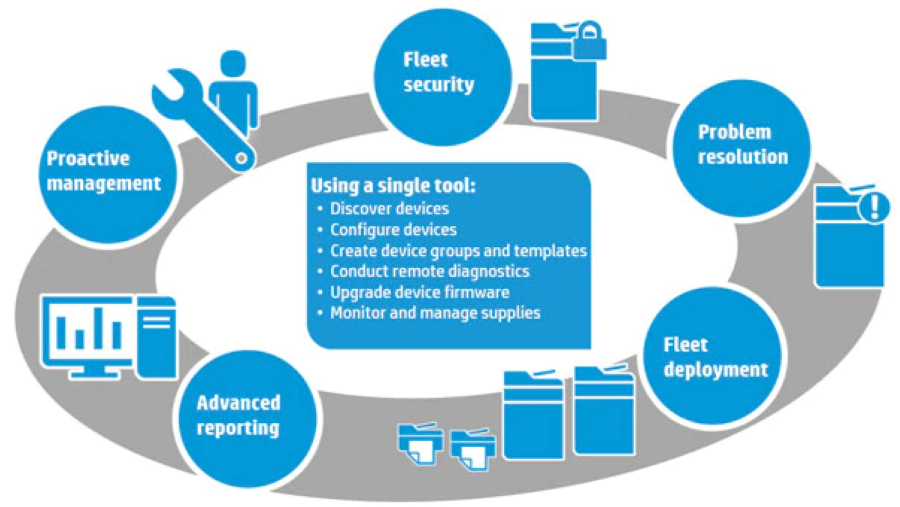 Whether your enterprise is small or large, easy-to-use
HP Web Jetadmin
offers a simple, free, web-based interface to install, configure, troubleshoot, and manage both HP and non-HP networked and PC‑connected print devices.
With HP Web JetAdmin, you can easily do the following:
Collect Page Counts for all your print and copy devices. Including non-HP models.
Collect Page Counts for USB Connected Devices.
Upgrade Firmware on multiple HP devices at the same time.
Schedule Firmware upgrades to run when the devices are not in use.
Create configuration templates and apply them to your HP devices.
Create security templates and apply them to your HP devices.
Group your devices by logical groupings such as by location or by device type.
Get email alerts when supplies or maintenance kits are running low.
Generate reports on who is printing what or what devices are printing the most.
Easily configure your fleet for cost savings—such as defaulting to duplex printing.
Establish end-user rules (or policies) to help control cost, such as access to color or to protect sensitive information in print jobs.
Identify devices that are potentially underutilized or with specific functionality that can be moved to help meet changing business needs.
Access critical fleet information—status, configuration, alerts, groups, supplies, and troubleshooting—on a single screen.
Efficiently deploy and manage devices
HP Web Jetadmin can help save you time with its ability to auto-discover new device IP addresses, quickly and easily set group policies, and configure or change device network settings for initial deployment or after installation.
Click here to download the HP Web JetAdmin software for free.
TotalPrint USA can help you with using HP Web JetAdmin to manage and optimize your print fleet. We have extensive knowledge in using this tool and can help you get the most out of it. Contact TotalPrint USA today for free assistance with any of your HP Web JetAdmin questions or needs.