Our clients traditionally only knew two ways to acquire copiers, through a lease or purchase. That is until they were introduced to Total Print USA, the only company in the US that provides NEW copiers on a simple rental model, that are most importantly supported by our national service team.

Let's look at this recent success story;

Client Overview

– Healthcare client with over 10 locations on east coast of US.

- Customer requests to have all copiers and printers on the same contract

- Customer for sees growth in the 3-5 years, adding locations and upgrading devices

Print Challenge

– Client has leases ending at various time in a mixed environment of a Xerox copier and Kyocera printers at each location.

- Customer expects to see growth at half of their locations

Print Solution

– We replaced leased equipment with one manufacturer, HP. As the leases came up, we replaced them on a co-terminus basis with devices that used the same toner and parts. Simple rental model, leases eradicated.

How did we do it?

– TPUSA landed preconfigured devices at our east coast warehouses. Our project manager led the installation of new devices, picked up leased devices and returned for customer.

Client results

– New equipment on simple flexible rental model, saved money.
- Customer is not tied to devices through serial number or bank, making the simple upgrades at half their locations a breeze. A simple email to upgrade the devices!


MSP results – Here they are;
MRR for the life of the contract,
The competitor eliminated from your account
Very happy client.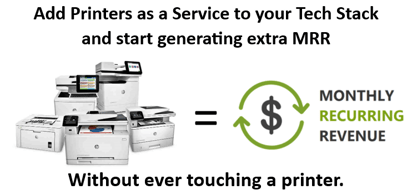 Managed copiers and printers should not be complicated. With TPUSA, we handle everything, there are no hand-offs, no switch ups. Our agreement is 1 page long with no confusing language. If your MSP is looking for simple solutions and white glove service, look no further.