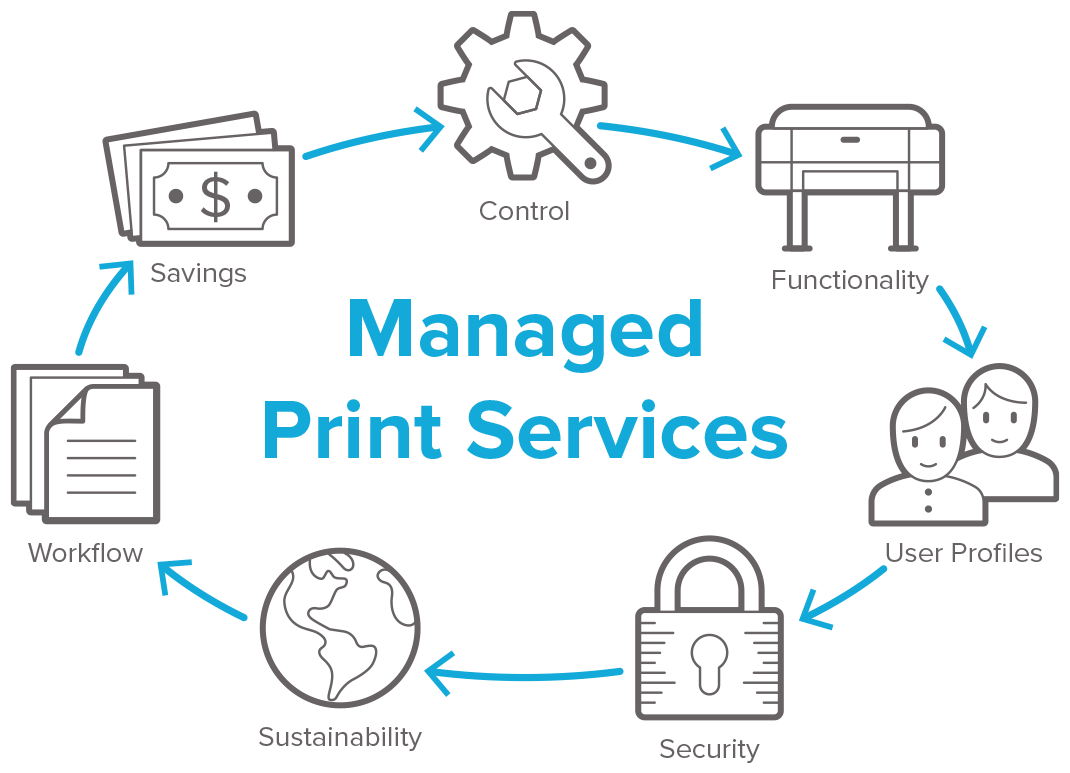 If you are not familiar with Managed Print Services, Managed Print Services (MPS) is a service where a Vendor takes care of every aspect of keeping a company's printers and copiers running smoothly and operating at maximum productivity. A MPS program is based on a cost per page model where the customer pays a certain cost for every page printed. In exchange, the Vendor takes care of everything needed, except paper, to keep the customer's printers and copiers running. A MPS program includes all the toner the customer needs, free onsite service with 4 hours response times, parts, labor, maintenance kits, expert helpdesk support, printer and driver installation, analytics, reporting, and a whole lot more. Properly managed, a Managed Print Services program can save customers 30% to 40% on their printing and copying costs. Best of all, it gets customers out of the print business. They no longer have to worry about ordering toner or dealing with printer issues. The MPS vendor handles it all.

If the Customer needs printers or copiers. the MPS Vendor provides them at low monthly rental rates and includes everything listed above. There are no up front costs to the customer or long term leases for them to sign. The Vendor simply ships out the equipment to the customer. The vendor will also install it, set up everything such as printing and scanning, and then starts billing them the monthly rental costs every month plus the cost per page for any pages that they printed. The new equipment will typically have a much lower cost per page than the customer's old equipment and the amount saved offsets to monthly rental rate by a huge amount. When the MPS Vendor does the analysis of the account and sees the print volume and which devices that they are using, it is easy to show the customer that they would save even more money by replacing high costs to run machines with new rental machines that are more efficient, faster, and lower cost to run. Another great benefit of a MPS program is that if the customers printer is unrepairable or dies, the vendor typically replaces it at no cost.
While it may sound expensive for a customer to pay for every page you print, you will find a MPS program costs much less than someone can do it themselves. In most cases, a MPS program costs less than customers are currently spending for just toner cartridges alone. Plus it includes everything listed above. Check out our Blog Post and see how a Managed Print Services program saves you money versus doing it on your own.
Toner coverage is something that many customers do not take into consideration. When you start doing full page color prints, you will find that your cost per page to print goes up tremendously since now you are getting a lot less pages from your toner cartridges. Check our Blog post to see why a fixed cost per page under a MPS program is a lot better.

The other great benefit of a Managed Print Services program is that it flattens out the costs of running a printer and copier fleet. Instead of having months where they have large expenses for things like service calls, drums, toner, etc., the customer just pays for what they rent and print regardless of how expensive it was for the vendor to keep their fleet up and running.